About
Sight-seeing flight above the Prague city center in Prague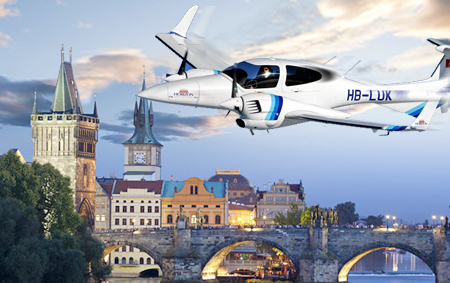 Prague like you've never seen it before!
Exclusive photo flights over Prague's city centre in a modern Diamond DA-42! We fly where others cannot go, so you are insured a very exclusive experience. See the most beautiful city of Europe with a birdseye view! See all of Prague's hundreds of towers and many squares from above thanks sightseeing flight. We start from the Letnany airport, from where we fly over Prague's ZOO, the futuristic looking Botanic garden – Fata Morgana and the beautiful baroque castle Troja, with it's precisely shaped french garden. Then the plane will take course towards the city centre.
Admire the pride of socialist architects; the Strahov stadium, which still is the largest in the world, with a capacity of over 250 thousand people. And then you see it, the magnificent Prague castle, with all the courtyards, palaces, gothic towers of the St. Vitus cathedral, and beautiful terraced gardens as we head over the Vltava River and the famed Charles Bridge... Within few seconds we find ourselves above the heart of Prague, the Old Town square.
You can observe from above the crowds on one of many markets, dominant statue of the famous protestant reformer John Hus, and of course the famous Astronomical clock and much, much more!
Details
Location
30 minutes ride from the centre
Duration
2 hours (including transportation)
Price includes
30 minute flights

Transports from our city center easy to find meeting point (where you can deposit your bags)
Or we can of course pick you up at a place of your choice within Prague city limits
Availability and Pickup
All year round, daily from 9 am to 5 pm.
Price
Price per person includes 30 minutes sightseeing flight above Prague City Center, Hotel Pick up and drop of, The plane is for 4 passengers + pilot.