About
Fighter-Jet Flight Prague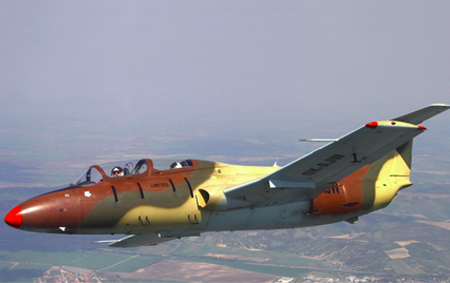 The Aero L-29 Dolphin, developed in Czechoslovakia for maximum manoeuvrability and flight experience, is the most widely used jet trainer in the world.
In addition to perform basic and advanced pilot training, it has also flown combat missions in a light-attack role. Now you have a chance to fly with this legendary, high-performance jet yourself under the guidance of a professional pilot and at the speed of up to 600 km/h and try different manoeuvres. Only your well-being defines the limits of the flight: simple figures such as rolls or steep turns, advanced aerobatics like loops, stall turn, barrel roll, Immelman, split-S, dive, steep climb and the high-speed low-pass over the runway. Since flying a jet should never happen on an empty stomach, a small snack will be offered to you before the flight.
After your arrival on the airport, you acquaint with the airplane L-29 "Dolphin". During the preflight check you go through ejection training for the case of forced airplane escape. Pilot or airplane engineer acquaints you with a cockpit and its units. Then flight itself in the plane with a professional pilot is waiting just for you. The run of the jet flight depends on your own physical condition that you negotiate with a pilot, during the flight you will communicate with him.
You are the only passenger on the airplane Dolphin L-29 which is piloted by our pilot. Your jet flight is ensured by other land staff. The cabin is air-conditioned. You obtain the complete outfit for jet flight. Personal videos and making photographs are permitted. Our team can provide professional video of your flight (departure, landing, flight shots - the cabin included). There are three cameras installed in the airplane. The one takes pictures of the lower part of fuselage with a view on the landing gear. The other ones are installed in a cockpit with a view on you as a passenger and with a view from the pilot position.


Details
Location
Brno, 2,5 hour ride from Prague
Duration
6-7 hours (including transportation)
Price includes
Transports from our city center easy to find meeting point (where you can deposit your bags)
Or we can of course pick you up at a place of your choice within Prague city limits

transfers in a airconditioned minibus
English speaking instructor
60 minutes briefing and training and getting acquainted with the plane
15-30 minutes flight (depends on how many you want, see the pricelist below)
debrief
Availability and Pickup
All year round, Monday—Sunday from 8 a.m. to 2 p.m.
Price
Price per person includes hotel pick up and return, transfers in a airconditioned minibus, English speaking instructor, 30 minutes briefing and training, 15-30 minutes flight, drinks.

| | |
| --- | --- |
| 1500 € | for 15 minutes flight |
| 1800 € | for 20 minutes flight |
| 1980 € | for 25 minutes flight |
| 2350 € | for 30 minutes flight |