About Skydiving Prague - Tandem jump + HD Video and Photographs + Extra "Selfie" video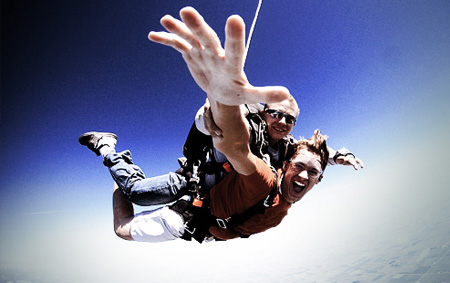 The journey of a lifetime begins with a single step ... this is ours!
Our tandem jump is an adrenaline rush unlike anything you've ever experienced before. After a quick 5-10 minutess training, its up to sky you go. The plane climbs into an altitude of up to 4,200 m. (14,000 ft.), which takes about 15 minutes so you can enjoy yourself while admiring the beautiful Czech countryside. Then the green light flashes, the plane door opens, your heart stops for a while and off you go, time tojump! Flying like a bird, free-falling for about a minute at a speed of more than 200 km an hour, then the parachute opens and you are cruising the sky for another 6 minutes. For the landing you simply lift your legs in the air and our professional tandem pilots will get you safely to the ground again. After the jump you will receive special free gift with value of 25€. You will have an option to choose from Dinner at Indian Restaurant, Pub Crawling, Gold menu at Hard Rock Cage Prague, Hop-On Hop-Off ticket for tour in Prague. One jump and you'll know why birds sing!
Details
Location
1 hour ride from the center
Duration
5 hours including transfers
Price includes
Transfers
Gear rental
pre-jump training
15-20 minutes sightseeing flight
Jump from 4,200 m altitude
cca 60 seconds freefall at over 200 km/h
5-6 minutes flight on the parachute
Certificate
T-Shirt
Full HD Video and Photographs + Extra "Selfie" video of your jump
USB Flash drive with company logo for your memories
Free gift
Availability and Pickup
April - November (weather dependant)
Individuals up to 4 people have to come to our meeting point at Dlouha 6, Prague 1. See the map in "contact"
Groups of 4+ can be picked up in a hotel in Prague metropolitan area.
Price
266 €
for groups of
1 up to 4
259 €
for groups of
5 up to 9
259 €
for groups of
16+