About
Indoor Skydiving in Prague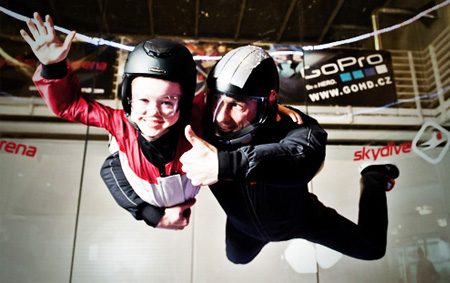 In the Fun Flying Wind Tunnel If you want to experience the feeling of free fall and jump from a plane seems too risky, then you're in the right place. Funflight is designed for anyone who wants to experience the feeling of flying but has no prior experience. After a short briefing and without any special training you can try an indoor skydiving under the supervision of a professional instructor.
Our vertical wind tunnel is modified for beginning flyers; stable stream of air at a speed of around 200 km/h corresponds to a real free fall. The flight chamber is closed so you cannot fall away from the air stream. During the entire flight you are supervised by an experienced instructor. In a short time you will learn how to control your body in the air stream and use 3D movement methods.
Indoor skydiving Prague is an amazing adventure you will not soon forget, and what gives you the right adrenaline.
Details
Location
20 minutes ride from the centre
Duration
cca 2 hours, including transfers
Price includes
Transfers

Transports from our city center easy to find meeting point (where you can deposit your bags)
Or we can of course pick you up at a place of your choice within Prague city limits

complete set of gear (suit, helmet, glasses and gloves).
english speaking guide and instructors
2x 2 minutes in the wind tunnel with an instructor
Availability and Pickup
All year round - reservation necessary at least 3 days ahead
Price
Price per person includes Hotel pick up, All gear rental, Instructor, 2 + 2 minutes flight each

| | |
| --- | --- |
| 1 person | 96 € |
| 2-4 person | 92 € |
| 5+ person | 85 € |