Range Shooting - Big Five: 5 guns & 50 shots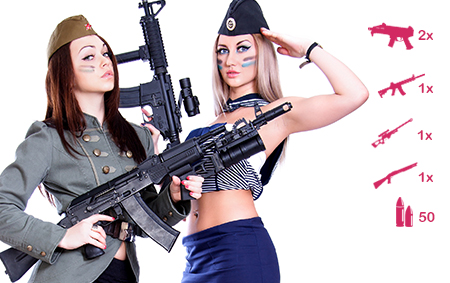 A once in a lifetime opportunity to experience shooting legendary guns! Guns like the AK47, M16, SA58, shotguns, sniper rifles and more await you on the indoor range shooting in Prague. Undergo weapon safety and instruction training with our professional instructors and test your marksmanship with your group of friends to see who's the sharpest shooter. You will learn how to handle, load and unload these real firearms in a safe and friendly environment.
Discover the thrill of firing some of the world's greatest firearm brands and test your skills. Choose from one of our specially designed packs below. What to do in Prague - try the best range shooting!
Details
Location
Indoor: 30-45 minutes from Prague city center
Outdoor: 45-60 minutes from Prague city center
Duration
2,5 - 4 hours, including transport, depending on group size
Price includes
Hotel pick up & return
transfers
instructors and all equipment
Drink, range entrance fee, briefing, ammunition, targets, protective aids
AK47 Kalashnikov Assault rifle 7,62 x 39 mm / 10 shots
Dragunov 7,62 x 54 mmR or CZ 550 Varmint .308 Winchester Sniper rifle/ 5 shots
AR15 (M16) Assault rifle .223 Remington or 9 mm Luger / 10 shots
Pump-action Shotgun 12 gauge / 5 shots
UZI Submachine gun 9 mm / 20 shots
Availability and Pickup
All year round, daily form 8am to 6pm
Price
Price per person includes AK 47 Kalashnikov 10 shots, Dragunov Sniper Rifle 5 shots, AR 15 .223 Remington (M16) 10 shots, UZI 20 shots, Shotgun 5 shots

| | | |
| --- | --- | --- |
| 110 € | for groups of | 1 up to 4 |
| 102 € | for groups of | 5 up to 8 |
| 94 € | for groups of | 9 + |