About
Hover board in Prague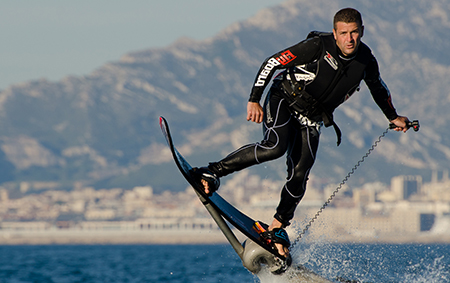 Fly like a bird, swim like a dolphin! The Hoveer board is a water sports apparatus which allows propulsion under the water and in the air; it could be compared to a powered wakeboard. The nozzles under your feet put out 90% of the propulsion and allow movement by tilting your feet and tilting the Hoveer board, the nozzles on the hands are used to help stabilization.
The Hover board is connected to a jet ski, where sits an instructor and with the help of detracting and adding a gas, he is pushing the water into the nozzles of this apparatus and this way he can correct you, if it is necessary. The Hover board is very intuitive, similar to learning to ride a bike, water-ski or surfing.
Usually after 10 minutes learning with the instructor you can already control the Hover board very easily, move under the water and challenge the gravity flying in the air! Try Hover board in Prague!
Details
Location
30 minutes ride from the centre
Duration
2 - 3 hours, including transfers
Price includes
Transports from our city center easy to find meeting point (where you can deposit your bags)
Or we can of course pick you up at a place of your choice within Prague city limits

wetsuit, lifejacket, helmet
briefing
15 minutes on the water
English speaking instructor
shower facilities
Availability and Pickup
April - October (weather dependant)
Price
Price per person includes 15 minutes flight on the Water, All transfers, English speaking instructor, All gear rental, Shower facilities

| | | |
| --- | --- | --- |
| 105 € | for groups of | 1 up to 2 |
| 94 € | for groups of | 3 up to 5 |
| 90 € | for groups of | 6 and more |